Fantastic Finish for Harrisburg High School Marching Band
Steve Krueger, President, Harrisburg Band Boosters
Friday, October 26, 2018
HARRISBURG, SD -- The Harrisburg High School Marching Band wrapped up their competition season with their best finish of the year, placing second in a field of nine Class A schools at the Youth in Music (YIM) Marching Competition at the U.S. Band Stadium in Minneapolis, MN. They also received the award for best wind section in their division.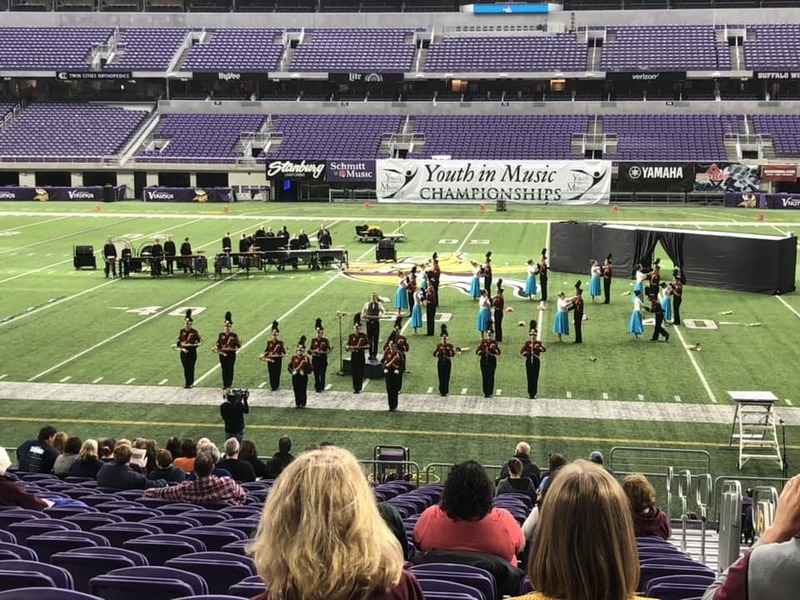 Braden Culp (Senior, Alto Saxophone) was also recognized with a YIM scholarship. He was one of nine recipients from just over 90 applicants. This is the second year a Harrisburg student has been the recipient of this scholarship (Megan Yee was last year's recipient).
This year's show concept was based on the Irish folklore, The Children of Lir:
The story begins with a widowed husband and his children as they celebrate his new marriage. Shortly after the wedding, the father's new bride reveals her magical powers and an evil intent. In a display of jealousy and greed, she casts a spell on the children, turning them into swans. The father then confronts his new wife and after emerging victorious, the spell is broken and he is reunited with his children.
The Youth in Music competition includes almost 30 bands from Minnesota, Wisconsin, Nebraska, and South Dakota in four divisions and approximately 4000 student participants.
This was their final competition of the season which also included performances at Pursuit of Excellence in Marshall, MN; Starfest in Sioux City, IA; and Festival of Bands in Sioux Falls, SD. Additionally, the band has performed at every home football game.
The Harrisburg Marching Band is under the direction of Jason Groon, Tim Stockman, Elizabeth Ennenga, Lora Egan, and Ellie Rohlck.